Fisheries Services
Building Better Bass
We consider Blessed Bayou to be a one stop shop for all of your fisheries needs. From pond and lake design to fish stocking and from fish feeders to fish feed, and everything in between, we've got you covered.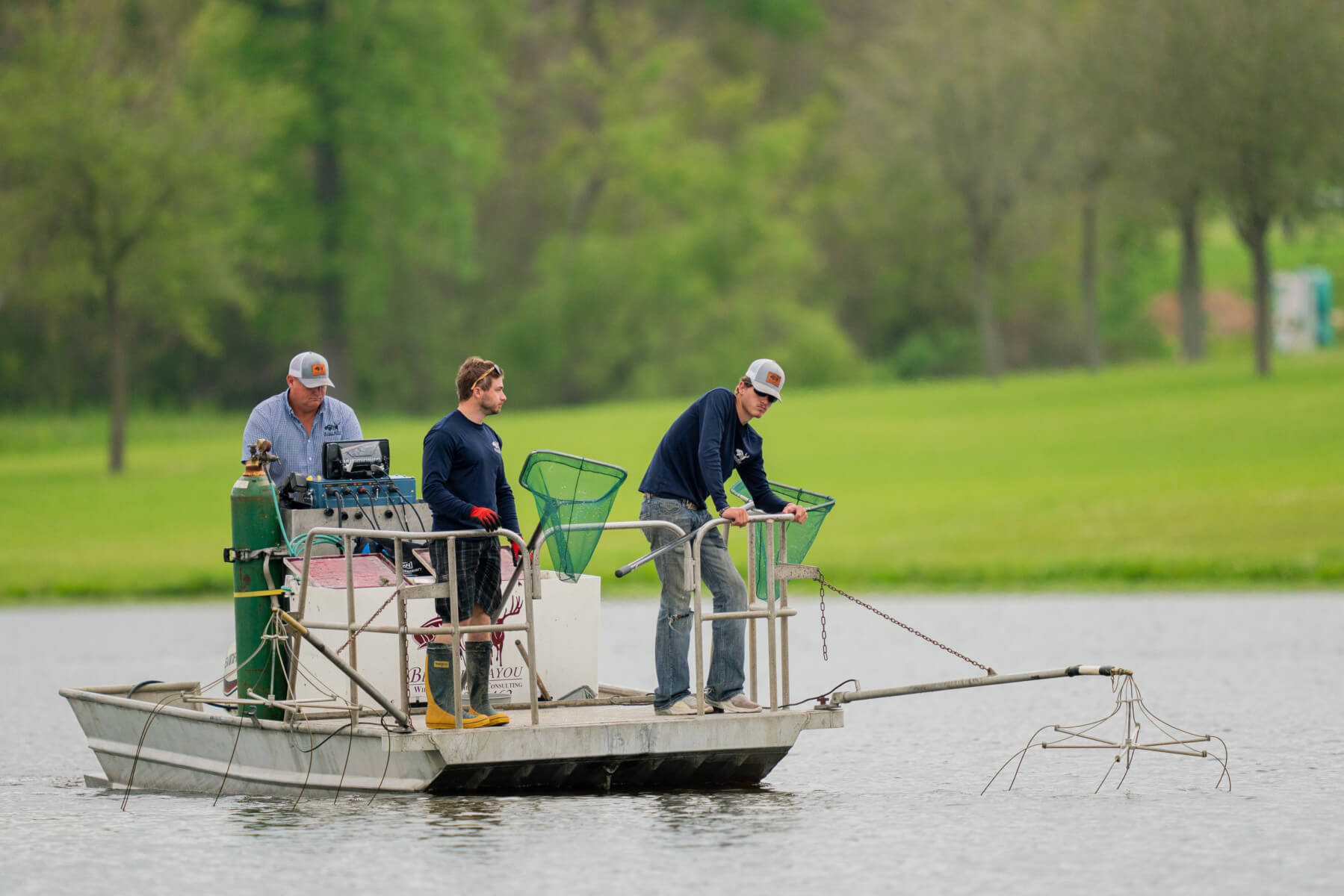 The 1st and most important step in managing your fisheries. It is nearly impossible to form a proper management plan for a body of water without knowing the species and populations within that body of water. An electro-fishing survey gives us the ability to properly do just that. Our surveys also come with water quality testing and written management plan dedicated to your goals.
We carry nearly every freshwater species available.
We can help pick the best location and start designing the pond or lake of your dreams.
Water quality is one of the most important tools in fisheries management. Knowing the chemistry of your water can make your lake more productive and balanced.
Aquatic Vegetation Control
Our biologist are skilled in controlling any kind of aquatic vegetation problem you may have.
Mossback Artificial Fish Habitat
Fish need a safe, relaxing place to go. Whether they need to get away from predators or spawn peacefully, good habitat allows them to do that. We are proud carriers of Moss Back Fish Habitat products.
Kasco Diffused Aeration Systems & Decorative Fountains
By simply adding a diffused aeration system to a lake it will improve water quality, create healthier fish, and help reduce algae growths. Aeration systems are considered insurance for your fisheries investment by greatly reducing your odds of having a fish kill. Oxygen drives the entire ecosystem under water. Without additional aeration you are dependent on oxygen from wave action and photosynthesis from plankton and other vegetation. During the warm season water stratifies and the deeper the water the less oxygen is available, which reduces a fish's ability to use a large portion of the lake. We can order and install any of these systems.
Directional Fish Feeders & Fish Feed
It is important to keep fish feeders full and operating throughout the entire warm season (March-November) with a small, pelleted feed of 40% or higher protein. High protein feed is by far the easiest and most effective management tool. Forage fish on a high protein feed will gain weight and reproduce at much higher rates, which in turns adds weight to your bass population.
--- ---